ECLIPSE
Reviewed by Michael Foster for Ambient Visions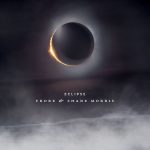 I have always been a fan of Spotted Peccary music as it seems that they have a very enviable track record of releasing some of the best music to be heard in the ambient and associated genres fields. I don't say this lightly because there are many albums that cross my desk in any given week but it seems that every time a Spotted Peccary release appears I know that I can expect to hear some of the finest music being released and that I'll probably want to review it. Case in point is the new release called Eclipse by Frore and Shane Morris which will be released to the world on 11/17/2017 but which showed up in my e-mail box last week as a review copy from Spotted Peccary.
Frore aka Paul Casper is from Virginia Beach, VA and is a self-taught musician who works with digital and analog synths, singing bowls, flutes and electrical drum sequencers while Shane Morris hails from Fayetteville, Arkansas and has achieved a high level of mastery with percussive and wind instruments from all over the world including the frame drum, Navajo cedar flute, didjeridoo and electronic percussion. While this list may help you get a handle on some of the instruments that figure prominently on their new release Eclipse it does not even come close to telling you what can be done with those instruments in conjunction with two talented musicians who blend their musical visions into a single coherent statement that results in the imaginative tribal landscape that you will hear on Eclipse. A paint brush in the hands of an amateur yields average images and lacks true vision but put that same paint brush into the hands of a dedicated artist and the images on the canvas will astound. The same can be said of the musical instruments I mentioned at the beginning of this paragraph in the hands of artists like Paul and Shane.
Music can be entertaining, music can be comforting, music can distract you from the stresses that tear at you each day but some music touches places deep inside a person that some might call meditative, spiritual, shamanic or even mystical in nature. Eclipse is music that reaches inside a person and gently tugs at those strings. Those strings are connected to aspects contained in each of us but which are not always utilized or accessed by a great number of people in our modern world. Often ignored and rarely sought out. Whatever word you wish to apply to it is fine but as a deeper listener you will feel the same thing as I do. The album is aptly title Eclipse and for those in ancient times the eclipse represented something frightening and something that left them in awe as they attempted to understand and explain what they were witnessing. Even in the 21st century and having recently had an eclipse that was visible in many places in the U.S. it still evokes wonderment even though we know in theory why and how the eclipse is happening.
Naming the album Eclipse set out the goals of what kinds of feelings and emotions the music would inspire and the journey that Paul and Shane were setting out on as they crafted the compositions that would eventually make up this most otherworldly excursion. On the Spotted Peccary page for Eclipse they refer to the music you will find on this release as tribal-ambient soundscapes and as I sit writing this review and listening to the music I can find no better descriptive term that would communicate what the listener will find once they cue this music up. The compositions are the perfect merging of organic elements and instruments right alongside the electronic sound palettes skillfully balanced so that the listener only hears the music and is completely pulled into the undercurrents of the flow.
With this kind of album it might be a good idea to set aside some time for a deep listening session as you play through it for the first time. As with most voyages using this type of music the music will act as a guide and as a conduit that carries the listener along and allows them to step away from their day to day existence for just a bit and to experience those areas of their personality that they might not ordinarily get a chance to see. There are several compositions that have an almost hypnotic beat that helps the listener to let go of the everyday and to focus in on where the music is leading. The best example of this on Eclipse are the songs Shadow Medicine and Nomadic Dreaming which are 20 minutes' worth of ecstatic compositions that are very trance like and if put on a repeat would be perfect for an extended journey all by themselves.
The album moves through a variety of emotional states over the course of the 8 tracks that comprise Eclipse with each song flowing seamlessly into the next so that as you listen you aren't really aware that the song changes so much as you are simply moving to the next phase of the trip, a continuation of the expedition of self-discovery that you are on with Eclipse as your guide. All the tracks on Eclipse are exceptional so you won't find me trying to name my favorites in this group of compositions. I think what you will find as you listen to Eclipse is that each song tends to evoke certain images and emotions and of course that will be different for each listener depending on where they are at on their own life's path. Some songs are flowing and wash over you like stepping into a warm moving stream and submerging yourself in the flow and becoming one with the water while other songs are more powerful and soul stirring which brings the mind into focus and forces you to see the world around you and your place in it.
I've described the music on Eclipse in terms that aren't necessarily explanations of the music as much as it is how the music will affect you. Paul and Shane have painted a picture with the atmospheric sounds that they have created for this project that are filled with powerful emotional energy. The intricate, multi-layered soundscapes they have constructed on Eclipse using a hybrid of ethno sonic fusions of traditional instruments and electronic effects have made this album a shining example of how tapping into the creative strengths of two unique artists and working together can create something that neither would probably have created on their own. The music is most definitely introspective and is filled with intricate layers of sounds created by synths, flutes, percussion and resonances. The overall feeling of Eclipse is one of expectation as you sit back in anticipation of your sonic adventure and this album does not disappoint. The one thing that I was thinking when the album was over was I sure hope that Paul and Shane decide to take this journey again further down the road. Highly recommended by Ambient Visions.
~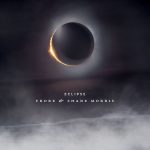 Sylvain Lupari (November 15th, 2017)
Hoarse, buzzing and powerful! Synth lines rise from the West and rage with a handful of mooing, "Anima" wakes up with some fascinating hummed murmurs, panting of didgeridoo and superb frame drums. The synth lines try as best as possible to pierce out, to say the least to cover, this furious tribal trance with reflections of tranquility. Waste of time! The chants of the desert don't even succeed putting to sleep these fascinating and very lively tom-toms. And this is what my ears and my feet want the most; hear roaring out the percussions which burst out on tense skins. Pursuing this incredible odyssey in the most intriguing aspects on Earth, the duet Morris and Frore brings us towards the fathomless beauties of an eclipse. Between these wild horizons and these states of meditation, the music of "Eclipse" knocks with a tone as lively as the colors of an eclipse and of the wild side of the various observation posts in the wild life. Here, one would imagine to be in full southern jungle with a sonic flora painted by thousand tropical delights and where the dominant percussions tame the bewitching approach of the synths which shine with beautiful colors, like the tail of a god peacock. "Calling Down the Sun" is simply exotic with its lascivious dance introduced by the heat of the synths. The rhythms around this album decuple the exuberant approach of the music. The flutes are as much silky than the shadows of the synths, as in the very beautiful "Feather and Claw" where they sing and even speak to us.
This 2nd get-together of this duet who are sculptor of sounds and ambiences is as much rich in tones and in allochthones percussions, like in the very good Blood Moon. We find the same diversity in the choice of instruments with didgeridoos, Amerindian and transversal flutes and other instruments of which the charms are entwined with those of synths perfumed by essences of the deserts and of tribal bewitching spirits. The percussions are the key of this album, like in Blood Moon, with rhythms of shamanic trances supplied by djembes and frame drums while the sequencer and the synths add superb percussive effects. "Stone Arch" is a title sculpted around gluttonous elements of ambiences which will abrade your walls. Intense, if one likes a vertical avalanche of sounds! "Shadow Medicine" exploits an ancestor tribal rhythm with effects of flutes and especially some sharp synth breezes which seem to have pierce the sides of a mountain with about ten very tiny holes. The rhythm of "Nomadic Dreaming" is alive as a musical meeting between Steve Roach & Byron Metcalf. The synth layers and the effects of an enchanted forest temperate finally the drawling percussions and the very good percussive effects of Shane Morris on "Changing Seasons". This flora of sounds is a pure delight for those who feed of it! "A Lonely Path" offers a music as much mysterious and uncomfortable as its title indicates it. It's like walking through the woods on an evening of a quiet moon. You know what I mean? And it's a big strength in this album; stick a musical image on the idea behind each title. Among other big strengths, let's note this symbiosis between the electronic elements, I found that Frore (Paul Casper) has a lot of imagination in his palette of sound colors and of sound effects, which are very creative at some points, and the frenzy of the percussions which make a beautiful balance between a more acoustic approach versus the electronic elements, especially the line of bass, propagated by the synths and the sequencer. These synths are rich in emotions while the sequencer is more discreet. The lively rhythms, the fluty melodies and the effects of voices are also small traps of seduction. In brief, "Eclipse" is a solid album of tribal trance and of tribal ambiences which finds as much its reason with a good pair of earphones than freely throughout our loudspeakers in our listening room. A rather rare phenomenon in the industry that the Spotted Peccary label masters since moons. Solid and intense, from "Anima" to "A Lonely Path"!
http://synthsequences.blogspot.ca/2017/11/shane-morris-frore-eclipse-2017.html