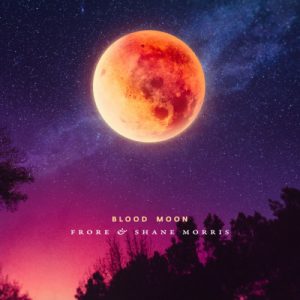 BLOOD MOON – Frore & Shane Morris
Released Spotted Peccary 2015
Throughout the ages, human ancestors have looked to the moon for comfort and guidance. Marking time and turning tides, inspiring fear and imagination, the glowing orb that is Earth's nearest celestial neighbor has been a constant and reliable beacon lighting the way through the dark skies of time. During an eclipse the moon would grow dark and red, triggering panic, resolution, rituals and celebrations among many cultures around the world, and this mesmerizing sight, known as a "blood moon," is the inspiration for an album featuring five long-form tracks of tribal ambient, electro-shamanic, modern primal soundscapes from electronic music shamen Frore (Paul Casper) & Shane Morris.
Blood Moon features an intoxicating blend of acoustic and electronic percussion, flutes, duduk, organic synth textures and ethereal atmospheres & soundscapes that follow in the Tribal Ambient traditions established by Byron Metcalf, Vidna Obmana, Robert Rich, and Steve Roach. All the hallmarks of the ethno-ambient sound are reflected here as the album glows with layers of rich harmonic textures – both ancient and modern – riding a polyrhythmic current of living, breathing drums and percussion. Pulsing soundworlds, both electronic and organic, rise up from swirling atmospheric drifts, all driven by primal forces of the past and present.
"For some time Paul and I have shared a mutual love of the rhythmic tribal ambient genre, both as fans and as composers," explains Shane Morris. "and we wanted to help keep that tradition of rhythmic, ethnic instrumentation, and trance-inducing ambient music alive and evolving."
Paul Casper adds, "I really find the dichotomy between the ancient and the new very alluring, and I just want the music to inspire a sense that the world is still mysterious. I like the idea that as hectic as life is, whenever I look at the moon, I seem to slow down and think about how everyone alive before me looked at the same object in the sky…and in some way I can still connect with the basic wonder of the world that our ancestors had."
Indeed, the moon has kindled great wonder throughout time, and the soundscapes of Blood Moon delicately reflect the mystery of nature, passage of time, ritual occurrences, and ancient wisdoms that are still vital components of modern culture; a symbolic reference to the power, unity, and interconnectedness inspired by countless gazes at the beauty of Earth's companion.
"Blood Moon is another monument in tribal ambient soundcarving, certainly one of the best releases of 2015!!! I even won't hesitate to use the word milestone, yes, that's how breathtaking is this album!!!" – Richard Gurtler